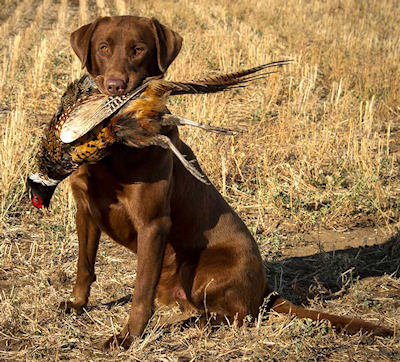 Trulines Wild Son QA2, MH, WCX
(Qualified All-Age, Master Hunter, 7 Derby Points)
Trulines Wild Son QA2, MH, WCX (Nike) is a pup from the first breeding in the history of the AKC out of two chocolate Field Champions (FC title). FC-AFC Way-Da-Go Call Of The Wild is Nike's sire. His dam is FC-AFC Rebel Ridge's Devils Luck MH. We purchased Nike in October 2012 from John and Amie Henninger, owners/field trial trainers at Truline Retrievers. John and Amie purchased Nike when his original owners did not have time for him due to a protracted illness in their family. Nike achieved 7 Derby points with John and Amie in limited trailing.
Nike is hard charging, athletic, an absolute lover, and prefers to be a lap dog. Nike lives to train and is a team player. He enjoys running blind retrieves and seems to prefer water blinds over land blinds. We took Nike pheasant hunting in North Dakota in October 2012 right after purchasing him. I think we created a monster. Nike flushed and retrieved several pheasants in chest to shoulder height heavy cover. He also hunted up several wounded birds on our family hunts.
Nike has a stocky build, a thick medium chocolate coat color, and weighs 71 pounds. Nike Qualified All-Age in field trial competitions in August 2013. Nike achieved his Master Hunter title in August 2014. Nike also has a Working Certificate Excellent. My plan is to resume competing with Nike in field trials.