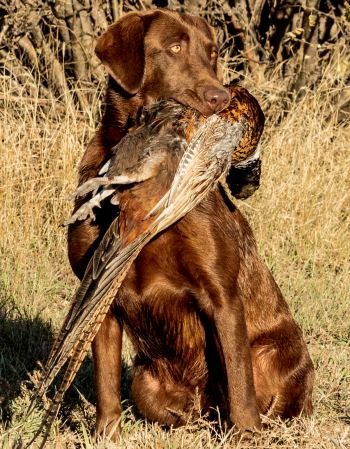 Merganser's Judge Jeanine SH
Jeanine is a medium size chocolate female. She has a sweet disposition and loves to be petted. Jeanine structurally is very athletic. She loves the water and is a strong swimmer. Jeanine has a Senior Hunter AKC title. We took Jeanine pheasant hunting in North Dakota last fall and I think created a monster. Jeanine would go all day hunting heavy cover.
Jeanine's sire is my first and best field trial dog, Merganser's Classic Matlock QA2. Jeanine's dam is our Merganser's Cedar Hills Elbee. Elbee's sire is our Merganser's Ferris Bueller MH, WC.
I plan on breeding Jeanine via frozen semen to our late Int CH Merganser's Abram Tank MH. Jeanine is due to come in season February 2019.