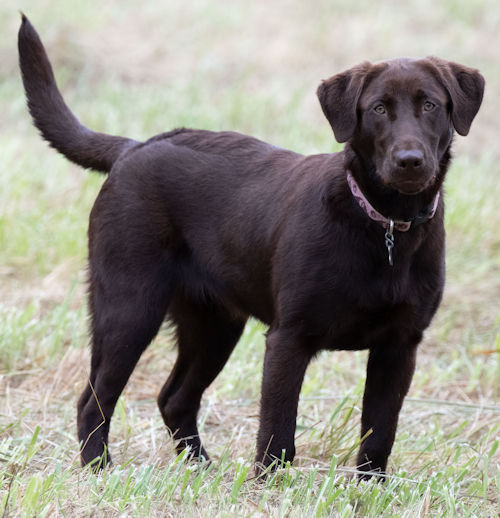 Merganser's Glenhoma Tsunami
Sioux is out of two black FC-AFC parents (Field Champion-Amateur Field Champion). Sioux's sire is FC-AFC Gleanhoma's El Chupacabra QA2 (Chupa). Chupa had 22 All-Age points, qualified for one NRC and one NARC, and had 10 Derby Points. Sioux's dam is FC-AFC Glenhoma's Soggy Bottoms Mildred (Millie). Millie has won two Amateur field trials this year which makes her qualified for the 2022 NARC. Millie had 15 All-Age points as of last year and had 8 Derby Points.
Sioux rode in the front seat of my truck, starting at age 46 days, for five straight days on our journey from east Texas to our home in Oregon. No accidents in her crate and minimal barking. Sioux is a very active and coordinated dog. She lives to retrieve. We have at least 30 toys in our living room and other dogs to play with to keep her entertained. Sioux has such good eye contact and is a fast learner. I have high hopes for Sioux in field trial competitions. I will probably breed Sioux a couple times in her life but not until she is three. Thank you, Richard Davis for giving me the opportunity to purchase this wonderful girl.