Merganser Labrador Retrievers
Located south of Eugene, Oregon, we breed AKC Labrador Retriever puppies and offer chocolate and yellow stud service. The goal of Merganser Labrador Retrievers is to produce good looking, intelligent puppies that have a strong desire to retrieve, are structurally and genetically sound, have that wonderful loveable Labrador Retriever temperament, and are exceptional family companions and hunting partners. We specialize in chocolates but also produce black and yellow puppies. We believe that Labrador Retrievers should have nice broad heads, otter tails, good conformation, plus have that innate desire to hunt.
Our stud dogs (4 chocolate and 2 yellow) and females are intelligent with exceptional pedigrees. Hips and elbows are OFA or PennHip certified. Eyes have passed CERF examination. We also test for EIC (Exercise Induced Collapse) and CNM (Central Nuclear Myopathy). Dianne competes with our stud dogs in field trials and hunt tests. Our dogs also enjoy pheasant and duck hunting. All of our Labrador Retrievers are house dogs, although not at the same time.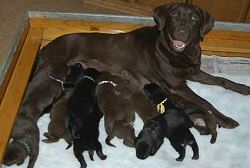 We whelp 2 to 4 litters a year. Merganser puppies are whelped in our house where they have close human contact. We feel that puppies raised in a stimulating environment with close loving human contact produce well adjusted, happy, and better trainable adult dogs. We give a written guarantee on our puppies' hips and eyes.
Merganser Labrador Retrievers has been breeding Labrador Retrievers since 1990. Our breeding program has produced an Amateur Field Champion, several Master, Senior, and Junior Hunters, and Therapy/Service Dogs. Most of our puppies go to non-competition homes and are family dogs.