Nat CH Merganser's Hawkeye Gruden QA2, MH, WC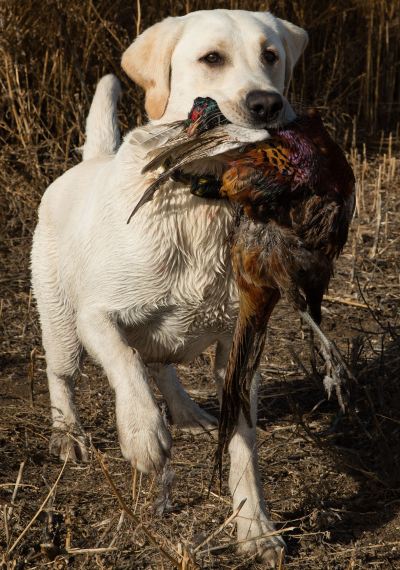 Gruden's pedigree is the best of field and show. Gruden is a third generation product of my breeding program. I think that Gruden has the conformation of the Labradors of the 1960s and 1970s before conformation was split so much between field and show. Gruden has a broad head, thick coat, otter tail, and good length of leg. His coat is almost white. Gruden is a wonderful house dog. He gets along with adults, children, other dogs, and cats. Gruden is an athlete who loves water and retrieving. Gruden has received 2 Qualifying 1st, three 3rd, and three 4th place finishes in field trial competitions. Gruden has an AKC Qualified All-Age (QA2) title, an AKC Master Hunter title, is a 2018 Master National Finalist, a National Show Champion title, and a Working Certificate from the National Labrador Retriever Club. Dianne plans on continuing to run Gruden in field trials in 2021.
Gruden's sire is AFC Hawkeye's Viking. Viking has an Amateur Field Champion title. Viking was the 2002 High Point Derby Dog in field trials. Viking achieved 92 Derby Points (14 wins), the highest amount of Derby Points ever for a yellow. Viking has also sired a High Point Derby Dog and a High Point Open Dog.
Gruden's dam is Int/Nat CH Merganser's Opal JH, WC. Opal has International and National Show Champion titles, a Junior Hunter title, and a Working Certificate. Opal has a stocky show dog build and enjoys retrieving and hunting. She is a well behaved mellow house dog.
Call Name: Gruden
Color: Yellow
Date of Birth: September 17, 2014
AKC#: SR84596401
Hip OFA: LR-223769E25M-VPI(Excellent)
Elbow OFA: LR-EL75393M25-VPI(Normal)
Eye OFA LR-EYE6532/79M-VPI(2021)
CNM Clearance: LR-CNM15-252-M-PI
EIC Clearance: LR-EIC2794/0M-PI
Breeder: Dianne Morley